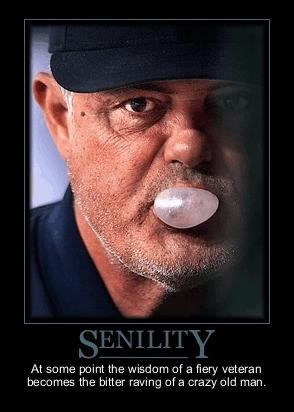 I'm not saying "Sweet" Lou Pinella is insane. But I am saying he made some interesting decisions this postseason. In fact, many Cubs fans would argue those decisions cost them the series.

The primary decision one would probably point to is his call to remove Carlos Zambrano from Game 1. He had only thrown 85 pitches in the sixth inning, and was on a roll. He was unhittable. But, Lou out thought himself in my opinion. He removed Carlos, and the rest is pretty much history. It was all down hill from there.

When asked about the decision to remove Zambrano, essentially trying to fix something that wasn't broken he said he was saving him for Game 4. In a five game series, to me, this makes no sense. You lose that first game, there's a chance you don't make it to Game 4! Of course, there wasn't and now all of the Northside is left to wonder if it was Lou's fateful decision to pull Zamabrano while he was on a roll that caused them to miss out on the World Series for the 99th year. "Wait till next year", Chicago.

Next year will be the 100th year since the Cubs last World Series championship. Last time they won, William Taft was president and the telephone was a luxury item. For your entertainment, here are some other notable changes in the world since 1908.

16 U.S. presidents have served.
Chicago is now the leading city for suicide in the United States.

Alaska, Arizona, Hawaii, Oklahoma, and New Mexico were added to the Union.
Harry Caray was born and died.
George Burns celebrated his 10th, 20th, 30th, 40th, 50th, 60th, 70th, 80th, 90th, and 100th birthdays.
Wrigley Field was built and becomes the oldest park in the National League.
Flag poles were erected on Wrigley's roof to hold all the team's future World Series Pennants. These poles have since been rusted and been taken down.
A combination of 40 summer and winter Olympics have been held.

Aisle 4, row 8, seat 113, first row on the 3rd base side of Wrigley Field in Chicago where Steve Bartman sat in 2003 changing the course of Chicago Cubs history forever. He "allegedly " touched a foul ball with the Cubs five outs away from the World Series. Those lovable losers then proceeded to blow the rest of the game and series.